Lille in France might be one of the most underrated places in France. This beautiful city is known for its amazing Flemish architecture, the great shopping street and its beautiful museums? But where would you stay in Lille? What hotel to choose? I have put together the absolute best hotels for your budget in Lille. Here are the best 15 hotels in Lille. 
Aparthotel Adagio Lille Centre Grand Place
This aparthotel is perfect for exploring Lille. It is located right at the heart of Lille, just a kilometre away from The Old Lille District, and will provide you with the comfort needed to have a hassle-free vacation. The hotel offers spacious family rooms. Each room has a private bathroom full of all necessary amenities, a flat-screen TV, and a microwave. The shared facilities within the hotel include a comfortable lounge, a sun terrace and a billiard table. The aparthotel is also close to Lille airport.
Hotel Lille L'Arbre Voyageur - BW Premier Collection
This hotel in Lille is a modern beauty that can't be missed, located just a 5min walk from Lille Flandres Train Station and a 10min walk from Lille Europe Train Station. The rooms are cosy, well designed, modern and classy, all at the same time. The refined colour palette will keep you longing to get back to your room after some exploration around Lille. They're spacious and fully equipped with everything you need on your trip to Lille. The hotel itself offers a courtyard overlooking the city, a bar, two restaurants and a meeting room, making it the perfect location for both leisure trips and business trips. It even provides an inhouse grocery store. The hotel is also ideal for anyone visiting Lille's Opera, which is 200m away.
Located in the heart of the historical district, Villa Gounod is the ideal location to surrender yourself to the history of Lille and embrace the architecture from within. The entire property seems to be a converted mansion, now housing well-equipped rooms with flat-screen TVs and with bathtubs in some bathrooms. The rustic style of a past era has been kept intact through the decor with the addition of some modern amenities for your comfort. The Villa is also located close to restaurants, 3km from Lille's Grand Place, the shopping centre, and very close to Lille Train Station and Lesquin Airport. The nearest metro station is also 50m away, allowing for easy access to the rest of Lille. If the mood is for staying in, enjoy the exotic garden found within the premises.
This Hotel is located in the heart of Lille, minutes away from all the major attractions such as the famous Grand Place and the Nouveau Siècle Convention Center. The pedestrianized area and the buildings surrounding this will take you back in time and let you experience what Lille may have been like ages back. You'll also be surrounded by plenty of restaurants and shops to walk around in. The rooms are novel and simple, with all necessary amenities including work desks for anyone visiting Lille on business. Being just 500m away from Lille Flandres Train Station also gives you easy access to and from Lille to other places.
Hotel La Valiz is conveniently located opposite Lille's train station and close to landmarks such as Gare Lille Flandres, and Le Tripostal while also being very close to famous restaurants which should not be missed upon visiting Lille. The rooms are modern and different, each with its own touch of authenticity. They're fully equipped, and the bathrooms have free toiletries. You'll easily be able to explore both the old town and the convention centre, Lille Grand Palais since La Valiz is situated just next to it.
With wow-inducing interiors and custom made toiletries with funny statements, Mama Shelter at Lille may be one of the most original stays to be found around. Vintage meets hipster meets casual, and fun would be one way of describing this stay. The rooms are as unique as the shared spaces which comprise a gaming room and a dining space boasting a buffet breakfast and home-cooked meals. You can also sip on a cocktail on the rooftop. Just 350m away you'll find Euralille shopping centre and the Lille Palace of Fine Arts is about 1km away.
Best Western Premier Why Hotel Lille
The unique window pattern found at this Best Western hotel is sure to catch your eye. The rooms are contemporary and spacious, each featuring a desk, an iPod docking station, a flat-screen TV, a minibar and a coffee machine. Here you can find a great breakfast buffet on offer, a beautifully furnished terrace and laundry services. With the Rihour Metro Station 200m away, exploring the city will not be a task, while some of the most visited sights such as The Grand Place and Nouveau Siècle Convention Centre are within 500m. The sleek design ensures that guests are kept comfortable.
A perfect mix between upscale chic and hipster casual, the Carlton knows precisely how to pamper their guests through simplicity and refined taste. Being just opposite the opera, it makes for the ideal location to stay at if you're visiting the Opera, and is also conveniently located 10 mins from Lille Europe Train Station and Lille Flandres Station. You can also enjoy a fitness centre and sauna on the premises. Each room is finely decorated equipped with a kettle and a Nespresso coffee machine for the days you feel like staying in. Enjoy the view over the Flemish buildings and the Opera House while you enjoy your breakfast at the breakfast lounge.
Grand Hotel Bellevue - Grand Place Lille
There is a reason why the word "grand" is in the name of this property. The palace is set in a building of Flemish architecture, with a courtyard in the middle with massive columns which get illuminated at night. Contrastingly, the rooms have been modernized just a bit with more modern headboards and some furniture but kept classic otherwise, with attached modern bathrooms. The rooms also come with air-conditioning, satellite TV and are completely soundproof, with added tea/coffee making facilities provided. You can enjoy a myriad of plates at the breakfast buffet offered before heading out to explore Lille. The Bois de Boulogne Park and the Citadelle area just 1.5km away, with the historic centre just a 5min walk away and Lille Flandres Train Station just 900m away.
The property rests within an old mansion just 500m away from The Old Lille District. The rooms are kept semi-classic with modern amenities to satisfy every need. They're stylish, spacious, with comfortable beds and even small workstations for anyone who may need. Each room comprises a flat-screen TV and tea/coffee making facilities and an attached bathroom with bathrobes and free toiletries. The timber floored halls take you back to another era while you enjoy your drink or breakfast. The Printemps Gallery is 400m away and the Nouveau Siècle Convention Centre just 500m. The hotel even provides a bike rental facility.
Alliance Lille - Couvent Des Minimes
A 17-century former convent has been converted for this property, just 5mins away from the centre of Lille. The courtyard features a modern architectural feat which hosts a floating bar. The rooms with attached bathrooms are kept minimal and cosy while the rest of the hotel has an aura of luxury emanating from each corner, from the marble floors to the intricate details. The
rooms even feature a flat screen TV and a minibar. The Pierre Mauroy Stadium and Lille Grand Palais are just 6km away.
Gastama - The People Hostel
Located within a beautiful brick building, this hotel features modern, minimal rooms and shared rooms with finely designed bunk beds. You can find a trendy bar and dining space within the property as well as working and hangout spaces. The bathrooms are equally well decorated and have all amenities. Guests can enjoy a range of sweets and savouries for breakfast before heading out. The location, just 20min from train stations, make it a convenient stop over. The Lille Citadelle is about a kilometre away.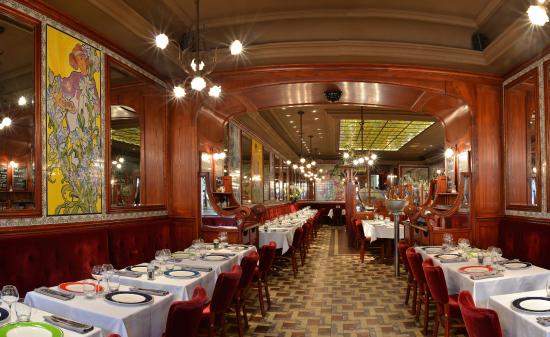 ($$) Located in the pedestrianised area of Lille, just 300m from the monument of liberty and their famous convention centre, this property boasts many antique features, specially the grand 19th century staircase and many pieces of artwork. The rooms will make you feel like you're part of a 19th century elite but surrounded by colours from Alice in Wonderland. The dining room features a beautiful skylight under which you can enjoy your meals.
La Ferme Blanche, The Originals Relais
($$$) This 18th century farm set is made to give you a good night's rest and a peaceful getaway, secluded from the hustle but just 10mins away from the centre of Lille. The rooms are edgy with modern features that add spunk. Guests can enjoy a daily buffet breakfast and a restaurant that serves locally sourced regional specialties.
($$) Set amidst 4 acres of green parks and trees, you'll be secluded in an almost fairytale setting. The interiors are kept minimal, letting the space breathe. All rooms comprise an attached bathroom including all toiletries. The property also houses a room accommodating guests with low mobility. Enjoy a hearty breakfast at this getaway before heading over to the centre of Lille, just 15mins away.
| | | | | |
| --- | --- | --- | --- | --- |
| | | | | |
| | | | | |
| Hotel Lille L'Arbre Voyageur | | | | |
| | | | | |
| | | | | |
| | | | | |
| | | | | |
| Best Western Premier Why Hotel | | | | |
| | | | | |
| | | | | |
| | | | | |
| | | | | |
| Gastama - The People Hostel ​ | | | | |
| | | | | |
| | | | | |
| Le Domaine Des Cigognes ​ | | | | |
Lieze Neven is a globetrotting travel writer and expat currently based in Nepal. With a passion for exploration, she has lived in Dubai, the UK, and Belgium, alongside her international teacher husband.  Her parents live in France and she tries to visit Paris at least once a year. Together, they travel the world looking for the best hotels, experiences and food locations have to offer!