The city of Southampton in Hampshire can be a fantastic choice if you are looking for a great golfing holiday destination, as it hosts a range of private and city-owned golf clubs within and in its surrounding areas.
With a variety of heathland and parkland courses, the golf clubs in this area account for much of the varied landscapes of Hampshire.
Here are ten of the best golf clubs with outstanding landscapes and facilities in the Southampton area.
Book your trip to Southampton
Southampton City Golf Club
Originally known as Southampton Municipal Golf Course or "Muni," Southampton City Golf course is regarded as one of England's finest municipal golf courses.
Located within a conservation area in the stunning Hampshire countryside, this course is a true joy to play with a fascinating mix of holes, an array of natural hazards, unseen greens, and challenging water features.
The 27-hole golf course, built in 1935 by five-time British Open Champion J. H. Taylor, features an 18-hole, par 69 (6213 yards) main course, and a 9-hole course quick play if time isn't on your side.
It is easily accessible from both the M3 and M27 and is available to golf players of all skill levels. The Southampton city golf course also has you covered when it comes to all your golf equipment needs, as it offers a wide variety of golf equipment in its pro shop.
Stoneham Golf Club Southampton
The Stoneham Golf Club, designed by Willie Park Junior in 1908, spans a historical field that was worked over in 1775 by landscape architect Lancelot' Capability' Brown.
The course at Stoneham is renowned for its stunning scenery, a mixture of heathland and parkland with undulating fairways that causes balls to roll in all directions.
Many features of the 18-hole, par 72 (6392 yards) golf course give a fun and challenging experience with a variety of short par 4s, long par 3s, long par 5s, and no two similar holes.
Stoneham Golf Club is situated only a few minutes from the M3/M27 motorway junctions, making it an ideal location for visitors. Amenities include the TrackMan launch monitor to help you get the most out of your game, a pro shop packed with big brands, and professional coaching for players of all abilities and ages.
Designed by Charles Lawrie, The Romsey Golf club opened its doors for the first time in 1900. The 18-hole, par 69 (5718 yards) golf course makes its way through undulating terrain with tree-lined fairways, raised greens, and strategically placed bunkers.
In addition to a superb course, a clubhouse and a pro shop are located on-site. Romsey Golf Club also has a golf academy, where new golfers are guided through learning the rules and etiquette of the game by a club professional.
Located less than a mile from the M27, Romsey Golf Club has long had the reputation of being a very friendly club to visitors. Enthusiastic pro shop staff, excellent caterers, and a friendly management team are all available to ensure that your time at the club is an enjoyable one.
Chilworth Golf Club Southampton
Chilworth Golf Club is a quite challenging 18 hole, par 69 (5915 yards), private golf course established in 1994 on the outskirts of Southampton.
Two loops of nine are laid out on its good undulating course that offers various golfing experience. It can be played either as a full eighteen or as separate nines when time is limited. Either way, you can experience one of the region's most enjoyable and challenging golf experiences.
If you are looking for a club to play host to your social group or have a good time with friends and family, then Chilworth Golf Club offers that and more.
On-site amenities at the Chilworth golf club include a driving range and a pro shop. You can also relax in the clubhouse as the bar and restaurant cater to both you and your party's needs.
Boundary Lakes Golf Course
Designed by Bruce Weller, Boundary Lakes is an 18-hole par 69 Southampton golf course. This beautiful parkland course, complete with standard greens, undulating fairways, and breathtaking scenery accentuated by its four major lakes, provides a remarkable experience to both experienced golfers and beginners.
In addition to an excellent golfing experience, this stay-and-play venue provides off-course facilities, including a fully-stocked pro shop, custom-fitting studio, a bar, and a clubhouse situated within its neighbouring hotel – Hilton at The Ageas Bowl.
With two stunning restaurants, 171 luxurious bedrooms, and a tranquil spa, the luxurious hotel boasts one of the most spectacular backdrops. It is sure to make your next society visit or corporate golf day relaxing and enjoyable. The services at the course are of the highest quality, and they also have advanced PGA professionals to help you improve your game.
Dibden Golf Centre Southampton
On the eastern edge of New Forest sits the Dibden Golf Centre run by New Forest District Council. It overlooks the Southampton water and offers players incredible views. The famous Dibden Golf Centre is home to Bramshott Hill Golf Club, a 27 hole complex with two superb courses: the 18 holes, par 70 (5935 yards) course, and a 9 hole par 58 course.
Known for its friendly staff, nice layout, and tricky greens, the Club was formed in 1975 by a group of golfers asked by the New Forest District Council to start a Golf Club.
The Dibden Golf Center satisfies the needs of a wide range of golfers with amenities such as a driving range, a lovely clubhouse looking across to cruise liners, and a pro shop with a wide range of golf equipment. The pro shop also offers advice and assistance from PGA professionals to golfers who want to improve their game. This Southampton Golf Club lies close to the Southampton beaches and harbour.
The Wellow Golf Club offers terrific views and challenging play for golfers of all levels of ability. This golf club is a family-owned business that opened its doors in 1991 and was designed by W. Wiltshire.
While relatively new, the Wellow golf club has three unique, full 9 hole courses – the Ryedown, Embley, and Blackwater courses, featuring well-groomed fairways and greens superbly maintained throughout the year.
Situated not too far from Southampton just off of the M27, the 27-hole complex is easily assessable to visitors. It boasts a variety of amenities including a great practice area with putting green, and full-time PGA Professionals. All these, coupled with fine food from their lovely clubhouse, will ensure that you have a memorable time at the club.
Hockley Golf Club Southampton
The Hockley golf club features an 18 hole, par 71 (6420 yards) downland golf course, laid out on undulating meadowland with some fairly tight fairways.
Designed by the legendary James Braid, the scenic course is set on 240 acres of free-draining chalk, offering fantastic views of Winchester's ancient heritage city from its downward fairways.
Hockley's greatest defence is the wind and accuracy is a fundamental challenge for even the best golfers, and when the breeze is up.
The terrain on which the course is built means it remains playable almost every day of the year, except in the very worst weather conditions. The club features a pro shop and a clubhouse.
East Horton Golf Club is a 45 hole club set across 260 acres of beautiful Hampshire countryside, and the ideal place for all golfers whether beginners or pros.
This club hosts three superbly kept and challenging golf courses: The stunning 6,186 yards, par 72 Championship-standard Greenwood Course that offers a breathtaking view from its top holes; the challenging 5,672 yard, 18-hole, par 69 Championship-standard Parkland Course, which proves a great test for golfers of all abilities; and the 1,000 yards, 9-hole, par 3 Marwell Course which is ideal for golfers who are either short of time or daunted by playing the full 18.
Club amenities include a bar and clubhouse, conference room, restaurant, and a pro shop that offers a great range of equipment, and expert advice from qualified PGA professionals.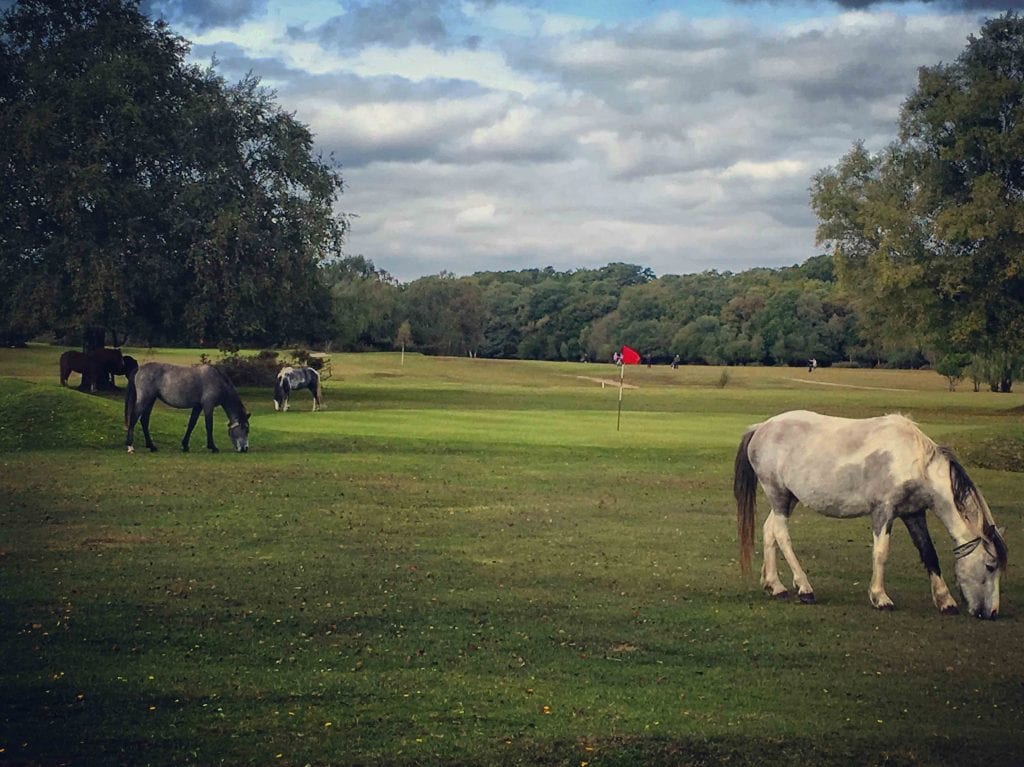 Established in 1888, The New Forest Golf Club is an 18 hole, par 69 (5536 yards) private heathland golf course regarded as one of the best in Southampton. It was voted one of the top 50 Heathland courses in the UK in 'Today's Golfer' magazine.
Situated in an area of outstanding natural beauty not far from Lyndhurst's village, it has slightly undulating fairways that provide golfers with a tricky golfing experience. The course further benefits from a top-of-the-range irrigation system that makes it virtually playable throughout the year.
Visitors are made welcome anytime, and plenty of social activities and golf competitions are held throughout the year.
Besides offering a wonderful atmosphere to enjoy your game, the New Forest Golf Club offers amenities such as a bar and restaurant, and practice areas. It also features an on-site pro golf shop for all your practice equipment, with a full-time PGA professional available for coaching and instructions.
Lieze Neven is a globetrotting travel writer and expat currently based in Nepal. With a passion for exploration, she has lived in Dubai, the UK, and Belgium, alongside her international teacher husband.  Her parents live in France and she tries to visit Paris at least once a year. Together, they travel the world looking for the best hotels, experiences and food locations have to offer!