Best Airbnbs in Bournemouth
Bournemouth is a beautiful seaside city in Dorset. As it is easy to get to by train from London, and since the enchanting New Forest is closeby, many British families decide to spend their holidays in Bournemouth. But where should you stay in Bournemouth? I have made a list of the most beautiful and best Airbnbs in Bournemouth so you can easily choose and book an Airbnb in Bournemouth. 
Best Airbnbs Bournemouth Summary
Scroll down for a comprehensive comparison table
Beachside Apartment with Sea Views, Balcony and Parking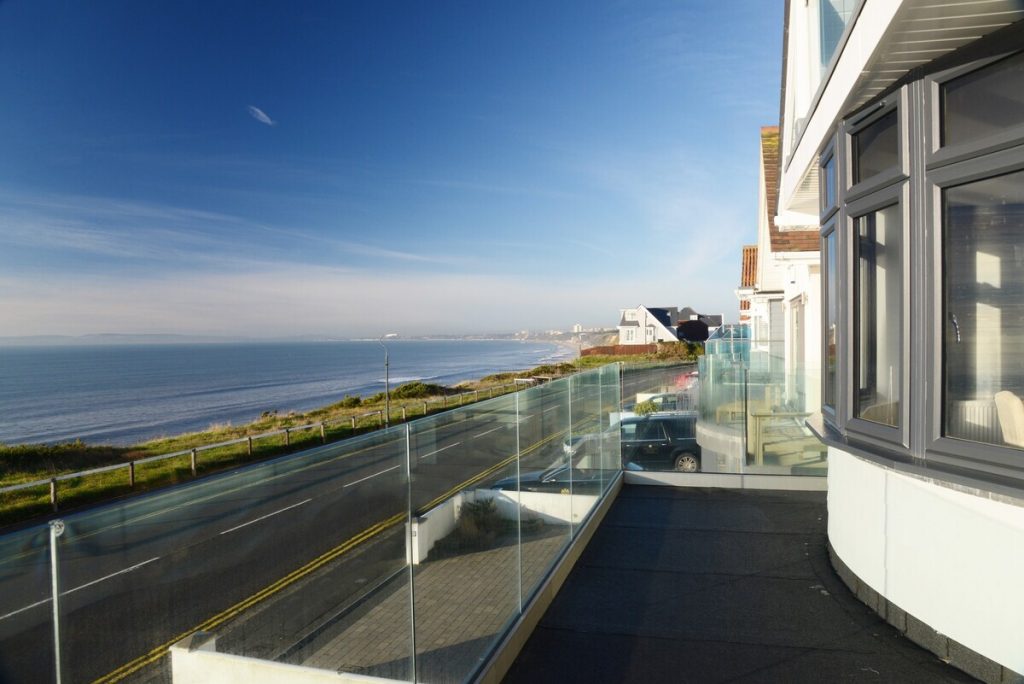 Located just across the famous Blue Flag Southbourne Beach, this ultra modern apartment serves up views that extend all the way to the horizon. The entire place is very minimally decorated, which creates for plenty of space and lets the light shine right in. The open plan kitchen and lounge are perfectly set for entertainment, lounging around or cooking a nice meal. You can enjoy the ocean views as you dine, or even watch tv. The bathrooms are large with designer details and the rooms are also big, with plenty of storage space for all your holiday needs.
Fully Equipped Kitchen 
Great Location 
Balcony 
Extensive Sea View
Free Parking 
Dishwasher 
Beachfront 
Toiletries
Stunning Beachside Apartment with Balcony and Parking
This apartment offers a unique stay right across the beach. Accommodating up to 4 people, it is right across the street from the popular Blue Flag Southbourne Beach and offers views of Bournemouth, Isle of Wight and Swanage. The entire flat is dotted with windows streaming in light, and a beautiful French window takes you from the living room into a small terrace overlooking the sea. The open plan concept allows for plenty of circulation space within the house while the fully equipped kitchen ensures the comfort of cooking and dining at home. The rooms are large, with large cupboards and the bathroom comes with a bathtub and shower.
Beachfront 
Open Plan 
Balcony 
Fully Equipped Kitchen
Free Parking 
Toiletries 
Sea views 
Bath and shower
Beautiful Studio, few steps from the beach,central
This apartment will satisfy your craving for a trendy getaway. Located on the ground floor, just a few meters from Bournemouth's award-winning beaches, it is what trendsetters and fashionistas would like to call home. The simple decorations add a lot of character to this simple place, while details such as integrated appliances and utility cupboard make it efficient. The cozy, modern spaces all provide comfort, with a lounge/ dining room overlooking the garden, a large bed with soft linens and a spacious and fully equipped family bathroom. You will find a washing machine, dishwasher, microwave and toaster to make your stay easier. Even though quiet, the location is close to the beach, restaurants, pubs, and grocery shops.
Central Location 
Close to the beach 
Washing Machine 
Dishwasher 
Garden Views 
Free street parking 
Lockbox access
Kitchen
Stylish Town Centre House
The 'Reef House' is a newly renovated apartment which perfectly blends modernism with coziness for the ultimate vacation, located just a short walk away from the famous Westbourne area. The 5 guests flat have a large sitting room with sofa, fitted with tv, 1 of the 4 found here, and uplifting decorations. The kitchen is spacious and fitted with the best quality appliances such as a washing machine, dishwasher, microwave and a Neff electric hob and oven. You will also find a dryer for added efficiency. The secondary seating area shares the space with the dining and opens to an outdoor courtyard with BBQ facilities. The family bathroom is chic and large, fitted with 2 sinks. You will also find a high-speed fiber broadband internet connection. 
Newly Renovated 
Great location 
High-speed internet 
Patio
BBQ Facilities 
Fully Equipped Kitchen 
5 TVs 
Big Family Bathroom
Sea views Large 5 Bed Beachside House Free Parking
This large seafront, 5 bedroom and 4 bathroom beach house accommodates up to 11 people, ideal for a group getaway. The light colored internal spaces induce calmness and serenity, with a large sofa and dining table to accommodate all guests comfortably. This spacious living area opens up to the terrace facing the ocean, and with outdoor seating you can even enjoy a meal al fresco meal. The large kitchen is fully equipped for home cooking large meals, and there is a large garden with a hammock and garden bar, but is also ideal for kids to play in. The master bedroom offers spectacular ocean views and a large, attached bathroom, while the other bedrooms are also spacious, comfortable and welcoming.
Large Beach House 
Sleeps up to 11 
Beachfront 
Sea Views
Large garden 
Outdoor seating and patio 
Fully Equipped Kitchen 
Free Parking
Unique open plan Chapel Great for 6, Can sleep 10
Imagine cooking in what used to be an altar space, or lounging where pews were arranged, amidst the dark timber separations and dominating chandeliers. You can do so here, in this converted chapel housing up to 10 guests. This magical transformation perfectly blends in all the soothing features of the chapel to make way for a serene and welcoming home. The ample spaces allow all guests to flow through each area, a fully equipped kitchen, snug but spacious rooms and bathrooms. All these are decorated with trendy and modern pieces of art, adding zest to each area. You will also be just a 15 minute walk from Southbourne beach. 
Period Property 
Fully Equipped Kitchen 
Sleeps up to 10 
Short walk from Southbourne beach 
Front Courtyard 
Free Parking 
Dishwasher 
Washer
Westcliff Penthouse, Unbeatable Sea Views
A modern haven, with easy access to Bournemouth beach and pier, and mesmerizing views of the old Harrys rocks, Bournemouth and Sandbanks beach. A location unlike any other that can host up to 4 guests in 2 bedrooms, both consisting of large windows and plenty of light, and the master bedroom offering views of the ocean. The bathrooms are minimal and neat, fully equipped offering the maximum comforts. The kitchen, colorful and bright, also offers views of the sea, and is effectively fitted with modern equipment. The dining and living room open up into a wonderful terrace, with French windows allowing for spectacular views from one corner to the other. 
Great location 
Close to beach 
Sea views 
Bright and Airy
Terrace 
Fully Equipped Kitchen 
Washer 
Wifi
Apartment with Fabulous sea views near Bournemouth
This cozy apartment for 6 makes for the ideal stay for anyone wanting to hit the beach. You will have views of the ocean straight from your terrace and living room and be just a jump away from the beach. The lounge opens to this sea facing terrace, so you can even laze away indoors but still catch some sun. The bedrooms also provide sea views, with 1 even having a little balcony. The bathrooms are dainty, and consist of modern fittings, also fitted with a bathtub. The apartment also comes with a tv and kitchen amenities in a spacious pantry, so making meals will not be a problem. All local shops and restaurants are easily accessible.
Close to local shops and restaurants 
Fully Equipped Kitchen 
Terraces 
Sea views 
Beachfront 
Free Parking 
Dishwasher 
Washer
Bournemouth Airbnb 3 minutes from Beach
A perfect getaway for 2, cozy, modern, impeccably designed and fitted with modern appliances and fittings. It is located within a new central Bournemouth development with the security of an apartment complex but the feel of a home. Apart from being a step away from the beach, you will also be free to walk around, enjoy the garden and enjoy the vast views of the ocean right from the apartment. The living room is comfortably furnished and equipped with a tv, with the pantry and kitchen opening up to it. The bathroom also comprises a bathtub for any extra pampering needs.
New Apartment 
Central Location 
Garden 
Close to Beach
Washer 
Free Parking 
Fully Equipped Kitchen 
Toiletries
This ecofriendly cabin is fitted with state-of-the-art technologies to ensure you're provided with all the amenities with least damage to the environment, from solar powered lighting to infrared heating during winter months as well. This charming stay has everything a dream vacation could offer. A living room area connected to a beautiful patio which also leads up to a mezzanine floor with a cozy second bedroom, a spacious kitchen and pantry well equipped for easy cleanups and home cooked meals, and meticulously designed spaces with well suited furniture to also make it trendy and modern. It is located on the East Cliff area of Bournemouth.
Ecofriendly 
Solar Powered Lights 
Patio 
Infrared Heating
Fully Equipped Kitchen 
Washer 
Free Parking 
Toiletries
| | | | | |
| --- | --- | --- | --- | --- |
| | | | | |
| Beachside Apartment- Sea Views, Balcony & Parking | | | | |
| Stunning Beachside Apartment- Balcony & Parking | | | | |
| Beautiful Studio, few steps from the beach,central | | | | |
| Stylish Town Centre House | | | | |
| Sea views Large 5 Bed Beachside House Free Parking | | | | |
| Unique open plan Chapel Great for 6, Can sleep 10 | | | | |
| Westcliff Penthouse, Unbeatable Sea Views | | | | |
| Apartment with Fabulous sea views near Bournemouth | | | | |
| Bournemouth Airbnb 3 minutes from Beach | | | | |
| | | | | |