I love spending Christmas in Europe. Now I live on the other side of the world, I am actually missing the cosy nights in front of the telly while the wind and rain rage outside. Instead the weeks running up to the Christmas holidays basking in sunlight and soaking in the swimming pool.
Anyway – even though I currently live in a giant oven that hasn't seem snow. Ever.
But I love Christmas! And I literally cannot wait until next Christmas to come home to Europe to see the family in their ugly Christmas Sweaters and all the beautiful and amazing Christmas decorations.
I love going to Paris in the Christmas period and although I don't see that happen this year – we will fly out to the USA to celebrate in Colorado and that's a bit far from Paris.
But overall, going to Paris in the cold winter months is an amazing experience – I would even say that I love Paris in Christmas better than I like London during the Christmas period! Paris is so beautifully decorated with Christmas trees and Christmas lights.
Christmas in a city like Paris is extra cool because the city itself has very beautiful historic buildings and bridges that look even more amazing and awe-inspiring when decorated with Christmas lights. The lights on the Champs Elysees are not just switched on. Every year around mid-November the lights are turned on by the mayor of Paris. From then on, Paris is completely drenched in the Christmas mood.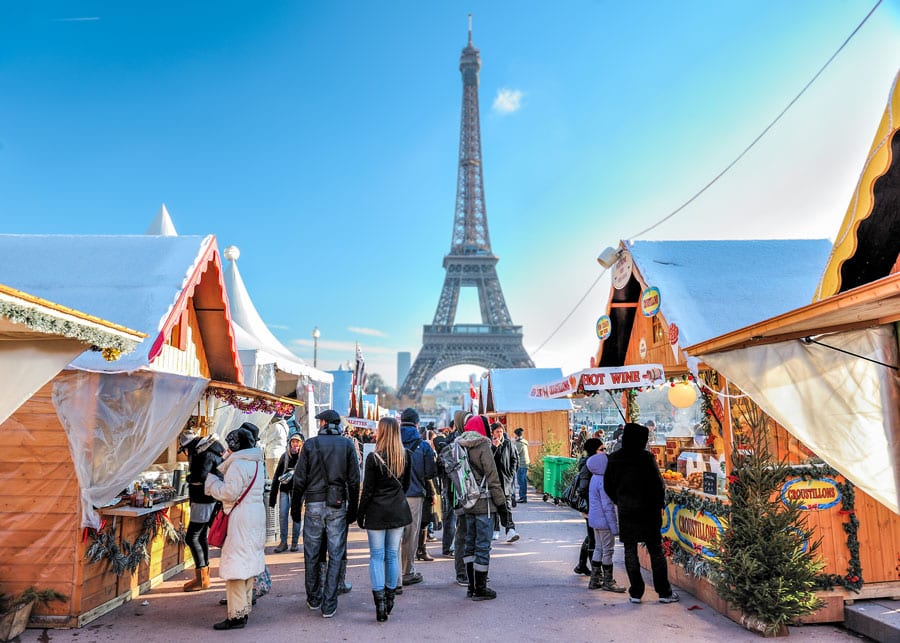 Christmas markets in Paris
I LOVE going to Christmas markets. Visiting Christmas markets in the Holiday period is something I grew up with. There are some pretty amazing Christmas markets in Belgium and I will be very sure to write some blog posts about which Christmas markets to visit in Belgium.
Paris also boasts some great Christmas markets where you can walk past the cosy stalls or sip from some Amaretto spiked Glühwein. You will be able to find a large selection of handmade presents, antiques, local delicacies and food, accessories, beauballs and Christmas decorations. Yes, that's true. You can basically find everything at these Christmas markets.
I have compiled a list of the best Christmas markets you should try to visit when wandering Paris in the Holiday Period.
I would look up what dates the Christmas markets are opened and what time the stalls open and close. I have put down the approximate opening times looking at the past few years, but it might be best you do your own research before heading off. The last thing you want to do is stand in front of a closed Christmas market craving mulled wine!
Christmas market at Notre Dame
Normally from aprox December 14 to December 23
Just a 2-minute walk from the beautiful Notre-Dame cathedral in the 5th arrondissement on Viviani square you will find a lively Christmas market. Ceramic art, jewellery, wrought ironwork and other art objects … you can look around against the backdrop of the beautiful Notre Dame with a delicious mulled wine in hand.
Christmas market at the Hôtel de Ville
Normally from aprox December 14, 2018 to January 6
I love the little Christmas market at Hotel de Ville. It's very quaint. There is a small train on the square in front of the Hôtel de Ville, an enchanted forest and a merry-go-round with wooden horses. This Christmas market is amazing fun for the little ones. Adults will be able to visit all kinds of stalls with local products from Paris and the surrounding area, waffles, crepes, and of course vin chaud.
Christmas market of Saint-Germain-des-Prés
Normally from aprox December 1, 2018 to January 1
In the heart of the beautiful Saint-Germain-des-Prés district you can visit a cozy Christmas market and get gift and dinner ideas. The chalets are richly decorated and you might even meet Santa Claus!
Christmas market at la Défense
Normally from aprox November 21 to December 29
When it's time to do some shopping for the holidays and Christmas products, this large Christmas market is ideal for that. This massive 10,000 m² Christmas market boasts various boutiques and all kinds of attractions for old and young! A hundred traditional chalets offer nice products and delicacies. The little ones can take a picture with Santa Claus.
Alsatian Christmas market at Gare de l'Est
Normally from aprox 5 to 21 December
Parisians know that the square at the Gare de l'Est is the place to be for delicious culinary specialties from the Alsace. This is your chance to taste pretzels, pain d'épices, great saucages and Christmas biscuits. And don't forget to taste and even buy the wines from Alsace!
Christmas market in the 15th arrondissement
Normally from aprox 14 to 23 December
The 11th edition of this small-scale Christmas market takes place on the square in front of the town hall of the 15th arrondissement. Around 20 chalets sell regional specialties, creative board games, craft items, jewellery and Christmas decorations. There's a lot to do for the whole family! Kids can go sledding, pony riding and in have fun in the merry-go-round. Children will also receive a goodie bag full of sweets.
Christmas market under the 'canopée' (the roof) of Les Halles
Normally from aprox December 1, 2018 to January 6
The Christmas market under the 'Canopée' of Les Halles in Paris is a Christmas village with more than 50 wooden chalets. You can find handmade items, decorative items and delicious food. The centrepiece of this Christmas market is a Christmas tree of more than 20 meters high full of Christmas lights.
Aprox on December 16 (definitely look this up!)
In La REcyclerie in the 18th district, a vegan Christmas market takes place around the 16th of December from 11:00 to 20:00. Just like at other Christmas markets, you can eat tasty snacks here, but everything is vegan! Vegan cheese, vegan chocolate, vegan sweets and more. There are also Christmas presents for sale, such as vegan cosmetics and vegan cookbooks.
Try the Vin Chaud or Mulled Wine
One of my favourite Christmas market must-haves is mulled wine or Vin Chaud. You can get it at almost every Christmas market and prices vary between €3 and €5 per cup of wine. Most stalls will have the more or less same prices although you might pinch €0.5 off the price by choosing a cheaper stall.
My favourite way to drink mulled wine is with a shot of Amaretto. I know it is very unorthodox, but trust me: it makes your mulled wine 1000 times better! My husband was not a big fan of mulled wine as it can be quite sour. When he first visited the Christmas market in Antwerp and I shoved a big glass of Amaretto-spiked mulled wine in his hands, he fell in love with the mixture of wine and Amaretto.
Try the Christmas apple juice
In Abbesses you can try a very special Christmas apple juice. The apple juice is hot and spicy and reminds me of a non-alcoholic mulled cider as we drink them in the United Kingdom. For people who have never had a mulled cider: it is a bit like the way you would drink hot apple juice during the winter sports. When leaving the Abbesses metro station, you will find the stall on your left.
When will Paris be in Christmas spirit?
Paris is completely in Christmas spirit when the thousands of Christmas lights on the Champs Elysees are officially lit. This takes place around mid-November each year. You can often follow the official lighting of the Christmas lights live on Youtube. The lights are lit by the mayor of Paris.
The best decorated streets of Paris
The nicest things about visiting a city during Christmas are the streets decorated with lights.
But what streets are worth a visit during the Holiday season? Which streets in Paris are most beautifully decorated for Christmas?
The most beautifully lit street at Christmas is of course the Champs-Elysees. Not far from the Champs Elysees you will find Avenue Montaigne. This is one of the most prestigious streets in Paris and you will find all kinds of designer stores here. Just like the Champs-Elysées, Avenue Montaigne is completely lit with Christmas lights and Christmas decorations. Other nicely lit streets:
Vivienne Gallery;
Place Vendôme;
Rue du Faubourg Saint-Honoré;
Grands Boulevards such as the windows of the Galeries Lafayette and Printemps;
Bercy Village
Les Passages
Did you know that you can skate on top of the Eiffel Tower in winter? Or on top of the Tour Montparnasse? So now you can enjoy a beautiful panoramic view of Paris while skating. As if skating itself wasn't super romantic in itself? You can also skate in front of the town hall (Hôtel de Ville) and in the Grand Palais des Glaces.
The windows of Galeries Lafayette
Nothing is more beautiful than the windows of the big department stores during Christmas in Paris. They pull out all the stops to make the shop windows as beautiful as possible. It is a major tourist attraction during the December holidays.
Christmas in the Château Vaux-le-Vicomte
If you are in Paris around Christmas, make a trip to the Château Vaux-le-Vicomte. At Château Vaux-le-Vicomte the entire castle is beautifully decorated with Christmas lights and Christmas decorations. It literally looks like you just stepped into a period drama or romantic movie. The extensively furnished rooms are completely decorated with Christmas trees and lights. All the mantelpieces are decorated and in the gardens the trees are lit and there are decorated horse-drawn carriages that will take you for a spin around the castle grounds!
The beautiful kitchen of the Château is filled with delicacies: candy canes, macarons, pyramids of chocolate and gingerbread. Especially when you have kids it is nice to visit Château Vaux-le-Vicomte because they can dress up as real musketeers or princesses!
How to prepare for Christmas in Paris?
Visiting Paris during the holidays is very impressive – but it can also be very busy as Paris is an extremely popular city. This means you need to prepare your visit to Paris over the Holidays extremely well.
If you are travelling by train, you can book a Thalys exactly 3 months in advance. This is when you get the cheapest travel rate.
When you are going by plane, you will want to book at least 12 to 6 months in advance to get a good price on your plane tickets. Use a ticket search engine like cheaptickets to find the best prices and the best flights to Paris.
As for a hotel: book as soon as you have your plane tickets. Hotels – especially good hotels, can fill up very quickly. I have written an article on the best hotels in Montmartre, but you can also check out prices and rooms on booking.com.
When you are visiting Paris during the Christmas period, it is important to make your reservations on time. Not all restaurants will be open during the Holiday Period and as the city is extremely busy, restaurants are known to jack up the prices or be fully booked.
Preparation is very important when you want to spend time in Paris over the Christmas holidays.